Bulldog Pride Scholarship Fund
"In this world it is not what we take up, but what we give up, that makes us rich." —Henry Ward Beecher
The Bulldog Pride Fund is an endowed scholarship that was established in 2006 under the auspices of the Fresno State Alumni Association:"To support students at Fresno State." By next fall, it will have awarded 34 scholarships valued at $61,000.
Total donations, as of April 1, 2014, are $303,527.
---
[Click here event reservations]
BULLDOG PRIDE FUND GRADUATES' RECEPTION
Please join family, donors and friends in honoring the Class of 2014 Bulldog Pride Fund graduates — Dausha Calhoun(BSN, Nursing) and Phillippe Prohoroff (BS, Business Administration) — on Friday, May 16, 2014, from 5:00 to 6:00 p.m. in the Jensen Library of the Smittcamp Alumni House, located on the Fresno State campus.
A short program with — Justin Kamimoto (three-time Bulldog Pride Fund Scholar) — begins at 5:30 p.m.
Admission is free. Refreshments provided. Donations are always welcome.
Won't you join us in saluting this year's graduates? Thank you!
GIVE TODAY. FOR TOMORROW AND BEYOND. • bulldogpride.org
---

The Bulldog Pride Fund is pleased and proud to bestow $10,000 to the 2013-14 Bulldog Pride Fundscholars: Raven Kapphahn, Phillippe Prohoroff, the student performing as Fresno State's mascot,TimeOut; plus Dausha Calhoun and Justin Kamimoto. Each receives a $2,000 scholarship for the academic year.

Made possible by nearly 500 donors and friends. Please make your gift to the Bulldog Pride Fund today! And, thank you for your continued support.
---

In the past fiscal year (July 1, 2012 – June 2013), donors to the Bulldog Pride Fund have contributed $51,419 to its scholarship's endowment. On behalf of our scholars – past, present and future – thank you for your continued support.
[VIEW 2012-13 Annual Report & Honor Roll of Donors]
---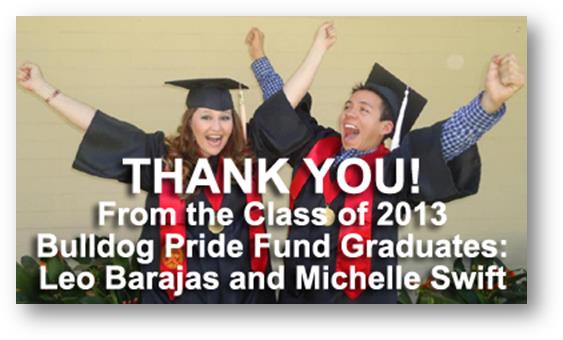 A thank you video from – Michelle Swift and Leo Barajas
– the Bulldog Pride Fund Graduates: Class of 2013.
(Special thanks to Rigoberto Moran, '13)
---

Get your LIVE CARD
– and support the BULLDOG PRIDE FUND!
[Click here to purchase yours!]
Bulldog Pride Scholarship Fund News
Apr 01, 2014
Menchaca is automatically the recipient of the inaugural Bulldog Pride Fund: ASI President's Award
Jan 07, 2014
BULLDOG PRIDE FUND SURPASSES $300,000 IN TOTAL DONATIONS
Sep 18, 2013
2013-14 BPF Scholars Awarded $10,000 in Scholarships