Bulldog Pride Scholarship Fund
"In this world it is not what we take up, but what we give up, that makes us rich." —Henry Ward Beecher
The Bulldog Pride Fund is an endowed scholarship that was established in 2006 under the auspices of the Fresno State Alumni Association: "To support students attending Fresno State." By this fall, we will have awarded 41 scholarships valued at $74,000.
Total donations, as of April 2, 2015, are $364,536.00.
---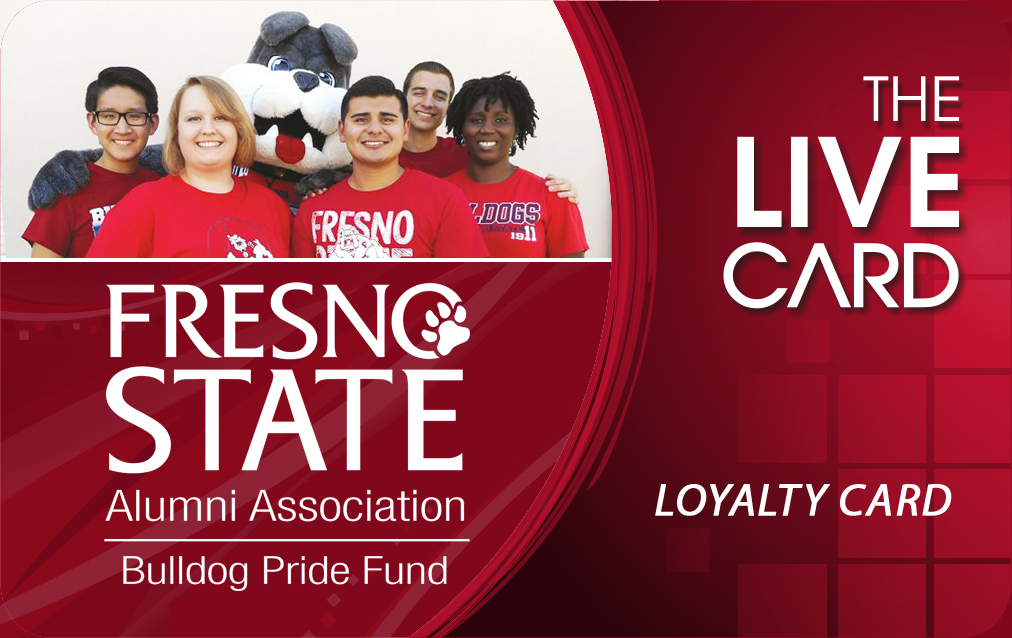 Get your LIVE CARD
– and support the BULLDOG PRIDE FUND!
[Click here to purchase yours!]
---


Introducing the 2014-15 Bulldog Pride Fund Scholars:
The Bulldog Pride Fund, an endowed scholarship established under the auspices of the Fresno State Alumni Association, has announced its scholars for the 2014-15 academic year, sharing $12,000 equally:
• Jaclyn Young – a junior from Fresno majoring in liberal studies;
• Justin Kamimoto – a junior from Clovis studying leadership and development of community benefit organizations, plus earning Humanics and event planning certificates;
• Levi Landon – a junior from San Diego majoring in political science;
• Moses Menchaca – a senior from Patterson studying political science who's serving his second term as President of Associated Students';
• Raven Kapphahn – a senior from Porterville majoring in sociology; and
• TimeOut – a student whose identity is kept a secret.
Each scholar receives a $2,000 scholarship made possible by donors to the Bulldog Pride Fund's $315,000 endowment. Since 2006, the Bulldog Pride Fund has provided 34 scholarships valued at $61,000.

---


Click here to view the 2013-14 Annual Report →


---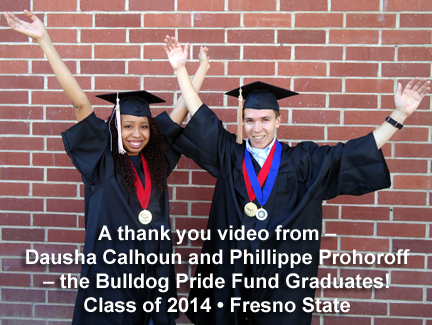 A thank you video from – Dausha Calhoun and Phillippe Prohoroff
– the Bulldog Pride Fund Graduates! Fresno State • Class of 2014.
(Special thanks to Rigoberto Moran, '13)
LINK: http://youtu.be/6XM-NfU_Idc
Bulldog Pride Scholarship Fund News
Apr 02, 2015
Abigail Hudson elected Fresno State's student body president
Mar 11, 2015
"AND THEN CAME TANGO" RAISES $10,000 FOR BULLDOG PRIDE!
May 09, 2014
BULLDOG PRIDE FUND PRESENTED AWARD OF EXCELLENCE BY PRSA