Bulldog Pride Scholarship Fund
"In this world it is not what we take up, but what we give up, that makes us rich." —Henry Ward Beecher
The Bulldog Pride Scholarship Fund is an endowment that was established in 2006 with two $50 donations under the auspices of the Fresno State Alumni Association with one simple mission: "To support students attending Fresno State."
As of November 1, 2016; total donations are $365,401.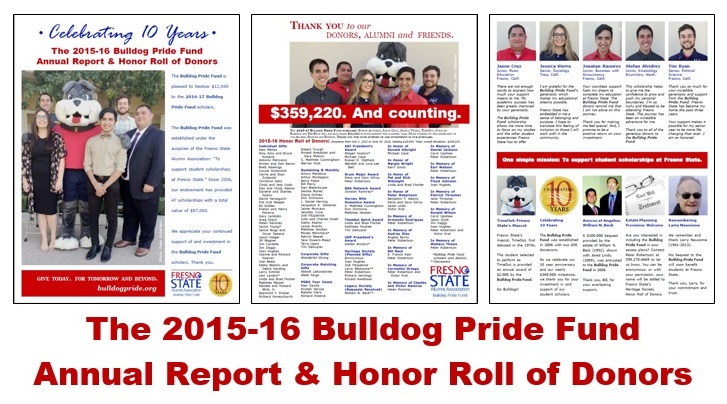 ---
INTRODUCING THE 2016-17 BULLDOG PRIDE FUND SCHOLARS:
The 2016-17 Bulldog Pride Fund Scholars sharing $12,000 equally are:
Stefan Alvidrez – a junior from Enumclaw, Wash. studying kinesiology and elected the president of United Student Pride;
Jason Cruz – a senior from Fresno majoring in music education and who serves as the drum major of the Bulldog Marching Band;
Jessica Vierra – a senior from Tracy studying sociology and earning a Humanics Certificate;
TimeOut – the identity of the student performing as Fresno State's mascot is kept, by tradition, a secret; but TimeOut's major is theater arts;
Jonatan Ramirez – a junior from Fresno studying business administration with an emphasis in accounting; and
Timothy Ryan – a senior from Fresno majoring in political science and who was elected president of Associated Students, Inc.
Each student will be publically recognized at the Fresno State Alumni Association's Top Dog Alumni Award Gala, slated for Saturday, October 15, 2016 at the Save Mart Center.
Additionally, each student receives a $2,000 scholarship made possible by the donors to the Bulldog Pride Fund's endowment.
Since 2006, the Bulldog Pride Fund as provided 49 scholarships valued at $87,000.
GIVE TODAY. FOR TOMORROW AND BEYOND. • www.bulldogpride.org
---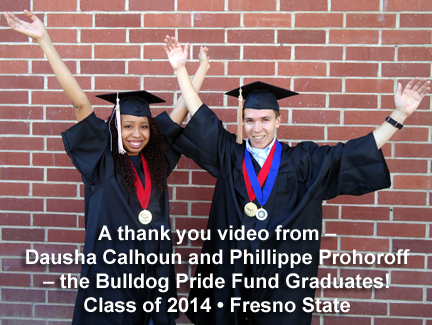 A thank you video from – Dausha Calhoun and Phillippe Prohoroff
– the Bulldog Pride Fund Graduates! Fresno State • Class of 2014.
(Special thanks to Rigoberto Moran, '13)
LINK: http://youtu.be/6XM-NfU_Idc
Bulldog Pride Scholarship Fund News
Mar 17, 2016
Tim Ryan selected as ASI President
Feb 26, 2016
Jason Cruz named inaugural recipient of the "Bulldog Pride Fund: Drum Major Award."
Feb 01, 2016
Total donations, as of Jan. 4, 2016, are $351, 484.